It is another work week and another week where I do some overtime because it is the end of the month at my work. Here is what I plan on listening to tomorrow.
Kobra and the Lotus: Kobra and the Lotus
This is one of my current favorite albums at the moment. So glad I picked it up last weekend at the Electric Fetus. Reminds me of Iron Maiden but with a woman as the lead singer. I would totally go to their show with Amaranthe on Tuesday but having to do OT this week, it isn't possible in my schedule.
Luna Mortis: The Absence
Ego Likeness: Dragonfly
Unter Null:Sacrament
Suicide Commando: Implements of Hell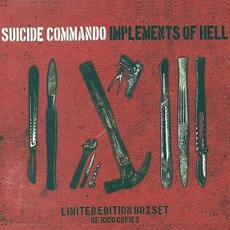 Syrian: Desynchronized
Die Braut: Psychotherapy
Wolfsheim: Casting Shadows
Sneaker Pimps: Becoming X