10.Nightwish
I have to admit after the band's previous album
Dark Passion Play
, my interest totally waned. My lack of interest wasn't because of Anette but because I found the material lacking in the spark and passion I had heard when Tarja around. Now that the band has one album under the belt with Anette, apparently the chemistry has finally jelled together. The band totally reignited my interest with their first single "Storytime" off their new album
Imaginaerum
. I just received my copy of the band's new album and I have to say that the album is fantastic from track 1 to track 13. While Anette can not fill Tarja's void, I consider her as part of Nightwish's next chapter in their career.
09.Blutengel
Blutengel is another band whose recent material left me to question my faithfulness to the band. Their 2008 album
Schwarzes Eis
left me thoroughly unimpressed. When they put out
Soultaker
in 2009, I didn't even bother to pay much attention to it. This year when the single "Reich Mir Die Hand" was released, the band definitely got my attention back. With Constance Rudert gone and 2 new additional singers, I have to say that
Tranenherz
was easily one of Chris Pohl's strongest albums as Blutengel. Love the new singers. It seems that the Blutengel that I came to love several years ago is back in fine form.
08.Straftanz
Straftanz is one of my new favorite bands of 2011. Got to meet the guys in person after the VNV Nation concert last month. They were some of the nicest musicians I had the pleasure to meet. Plus their music is fucking awesome. Bought their album shortly after the show which is also awesome too.
07.Omega Lithium
Excellent band from Poland who blends industrial, metal, and goth music to make some of the catchiest music I have heard in 2011.
06.VNV Nation
I must say
Automatic
is one of the catchiest albums VNV Nation has ever put out. I find myself listening to it constantly. Their most recent concert I attended was as always so much fun. I love VNV Nation.
05.Lily of the Valley
I discovered this band through FB from one of my friends when he posted a clip of one of their songs from their 2010 album
Sounds of the Moments
, been hooked ever since then.
04.Scala & Kolacny Brothers
Earlier this fall, I came across Scala & Kolcany Brothers on youtube. It was their cover of The Cure's "Friday I'm in Love". I was hooked and I started to checking out their other songs. Who thought that modern pop/rock music re-done in a choral arrangements would sound so good? The group does some amazing covers. My personal favorite is U2's "With or Without You". That track really sends chills down my spine. Their music is definitely worth checking out. It is amazing how well modern music sounds when sung by an all female chorus.
03. The Break Up
The Break Up is easily one of the best new bands in 2011 that I have heard. Of course it helps a lot that their singer is Severina Sol (from Cylab), my favorite singer in the electro scene. Their album
Synthesis
is a remastered version of their 2010 debut album with a few new tracks (I believe). Severina really shows what she is capable as a singer which I rarely hear with her work in Cylab, often reminding me of Siouxsie Sioux at times. The band's music is a throwback to the '80s. I hear a lot of Missing Persons, Berlin, and The Human League.
02.Javelynn
For most of 2011 I had been waiting to hear what former Ashbury Heights singer Yasmine Yaz Uhlin had to offer with her new project Javelynn. The wait was so worth it. Javelynn's music is a far cry from her days in Ashbury Heights. The music reminds me of Fischerspooner and Goldfrapp (
Black Cherry
era) with its electroclash beats. The music is a ton of fun to listen and dance to.
01.Kirlian Camera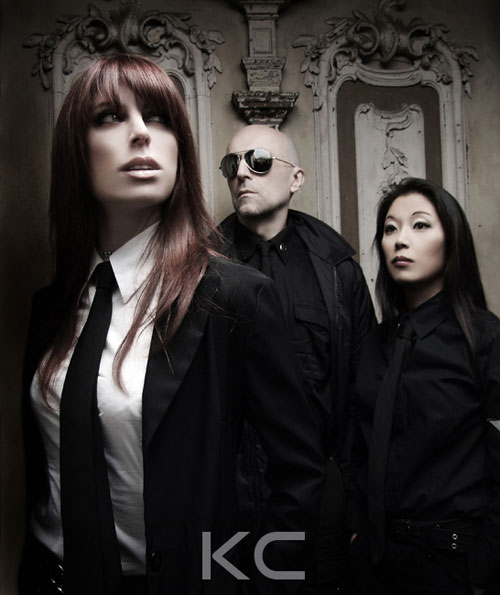 My
FAVORITE
band of 2011. After hearing their songs "Nightglory" and "Hymn" (a cover of the Ultravox classic) earlier this year, it was right then and there that I really started appreciating and enjoying the legendary Italian dark electropop band. I always did like them before but it was their songs "Nightglory" and "Hymn" (both found on their new album
Nightglory
) did I really become a huge fan of Kirlian Camera. I won't say where their new album ranks on my best of list (which I will publish before Christmas) but it definitely is in my top 5 best of list.