I was going to post my weekend activities in one big blog post but considering how much time is consume by uploading videos on youtube, I have decided to split it into two parts. I will start with my evening last night at the Nomad World Pub. I went there to see my good friend Brooke perform live for the final time in the Twin Cities with her band
Glean
before she moves overseas next year. I really didn't stay long last night, I just went to see
Jenny Dalton
and Glean.
The evening itself was to celebrate the album releases for both Glean and
Infinities
. In between bands, DJ Sophia Eris (of GRRRL PRTY) provided music which ranged from hip hop to '90s eurotrance. There was something for everyone amidst Sophia's sets. I was lucky to got to the Nomad before 9pm last night, ended up not having to pay cover for the show. Sometimes it does pay to be anal about getting to one's destination on time ;).
I remember when I first signed up with MySpace, one of the first artists that started following me was Jenny Dalton. For awhile I did go see her perform as often as I could and then life happened and I got distracted with other concerts and activities. Last night was the first time I had seen Jenny perform live in about 3 years I think, maybe 4. I almost forgot how much I liked Jenny's music which I can describe as being a little bit of Tori Amos and Kristen Hersh.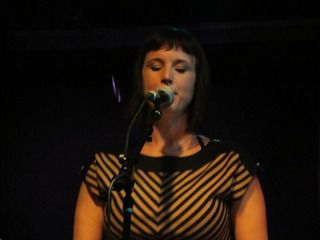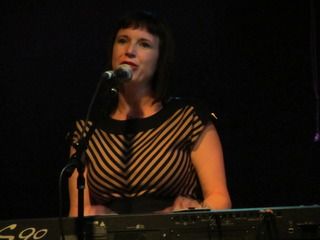 Glean was the next act to go on stage which was roughly around 10:30. Their music can be described as a mix of ambient, alternative, and chamber rock. The description is spot on with a bit of melodrama thrown in for good measure as seen in the clip that I recorded last night. While Glean's set was certainly entertaining, it was a bit bittersweet since this was would be Brooke's last live performance in the Twin Cities.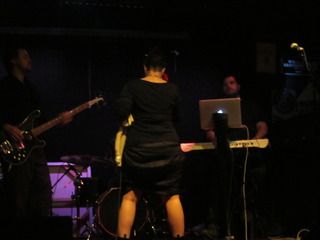 Before I left the Nomad last night, I did buy a copy of the band's new EP
Shadows and Sand.
It is excellent. I definitely recommend buying it (link already provided in previous sentence).
Despite the fact that this would be the last time I would get the opportunity to see Brooke perform live, at least I can say I am thrilled to have gotten to know her as a musician and as a person. I still remember seeing her with Pop Inc. at the C/A/T show at The Loft performing "Looking for the KLF" several years ago and being totally blown away what I heard. She also made me rethink my opinion of the local MN music scene which at the time was between apathy and yuck (things have definitely changed since I started paying more attention to the scene and discovering there was a dark underground scene).
It has been five years since I first started this blog. One of the reasons I started was thanks in part of my involvement with the Kilted Farmer Street team and secondly getting to know people like Brooke in the local music scene who got me to look at the Twin Cities music scene in a whole new light. I will definitely miss her physical presence in the cities but thank heavens for social media :). Thanks for everything Brooke! :)