Dying & Falling
by i:Scintilla
Today I found out that the Chicago band i:Scintilla had their new album available online through itunes. Hard copy won't be released until next month. Of course I had to download it (just like I have with the newest Conjure One cd). So far the album fucking rocks! i:Scintilla's music is a compelling mix of industrial and rock music. I had seen the band perform live once in Minneapolis two years ago with The Cruxshadows and Ayria. They sounded awesome live. They are definitely a band worth checking out.
Nothing is Infinite
by Angelzoom
I hate saying this but I was not impressed with the newest Angelzoom cd. The melodies fell flat with me to be honest.
Sin City
by Genitorturers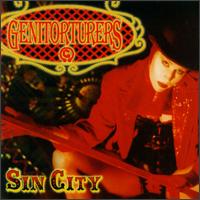 When I went to see the Genitorturers last week, I picked up a copy of their album
Sin City
. Awesome music! I really love their brand of industrial/metal music.
Parity
by Sensuous Enemy
Sensuous Enemy is one of my favorite bands from the midwest.
Parity
is an EP filled with 3 new tracks and a bunch of remixes. The remixes are excellent. I definitely recommend getting this cd via CD Baby, iTunes, or Radio-Active.com.
99 Luftballoons
by Nena
Due to my current obsession with Nena's music, I won a copy of Nena's album
99 Luftballoons
off ebay last week. Half the cd is in english, the other half in German. I am enjoying the album quite a bit. It's fun, catchy '80s new wave music. Damn shame that the American public never paid much to her other songs after "99 Red Balloons" because her music is just as catchy.