I got a bunch of new cds this week (unfortunately it does not include the DF album Aftermath which I am going to ask for a refund after Labor Day from the vendor I ordered it through on Amazon) but I did acquire some real gems.
Torture Garden compilation
There is a thorough review of the Torture Garden compilation above the photo. The author of the review Gregory Burkart does a great job at describing the album. It is a great compilation. I just love the local indie record label Shinto records. I have been a fan since last year when I bought the compilation
Sin-Tech
at Angels on Acid's show at Ground Zero. This latest compilation leans towards ambient/darkwave which is a hit or miss with me (normally a miss for the most part) but I really like this compilation. It helps that my friend Serena Toxicat (aka Protea - warning cheap plug!) has a track called "Mau Bast" has a track on it and her song fits in perfectly with the music on the album.
Speaking of Shinto Records...
Lunar Sea compilation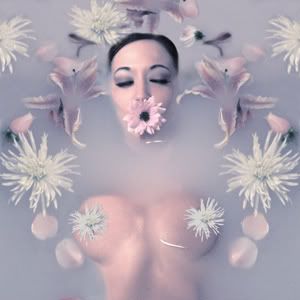 This was one of two cds I bought at Cheapo Records as a early b'day present to myself. Here is the actual
track list.
I can now officially say I own all four Shinto Records compilations. One can never go wrong with songs by Scarlet Slipping, The Spiritual Bat, and Sullen Serenade. I saw The Spiritual Bat and Sullen Serenade back in July. Talk about two grossly overlooked goth bands. The Spiritual Bat reminds me of Siouxsie and the Banshees. Sullen Serenade is this terrific instrumental goth band with a strong emphasis on tribal rhythms (i.e drums). Oh and Scarlet Slipping is a fabulous local artist. I only own one album of hers
Fire in the Mist
but do plan to to check out her other albums one of these days. Life's Decay I have only heard on the
Torture Garden
compilation but am already hooked. Their stuff can be heard on youtube.
IAMX: Dogmatic Infidel Comedown OK
I am normally not a big fan of remix albums but considering who is remixing IAMX's music, I had to get this album today at Cheapo. Aesthetic Perfection, Combichrist, Alec Empire (of Atari Teenage Riot), and Omega Man are just some of the artists remixing IAMX's music. I'll have to post my reactions to the cd when I listen to it sometime today/tonight.
Psyborg Corp: The Mechanical Renaissance
Much to my delight, I found my copy of Psyborg Corp's debut album in my mailbox today. It is as good as I thought it would be. This is going to give Unter Null's
Moving On
and Suicide Commando's
Implements of Hell
a run for best aggrotech album of 2010. Just fucking awesome.
William Control: Noir
I bought this cd last week at The Electric Fetus. It is the only new cd I have bought in a week that I just did not care for to be honest. I bought this cd on a whim. Stupid sticker said it was essentially a mix of Depeche Mode, Marilyn Manson, VNV Nation, and Apoptygma Berzerk according to Alternative Press. Needless to say I did not think the music sounded anything like the aforementioned artists.
Update:
I really dug the IAMX album. I should have noted before that not all the songs are remixes. A few are have been interpreted or covered by different artists. I am now listening to the
Lunar Sea
compilation and so far it is really good. Of course I have yet to hear a compilation from Shinto records that didn't disappoint me. You can find Shinto records by googling sin-tech.org.