Last night I finally got to see two of my favorite industrial bands Project Pitchfork and Ayria. Local band The Trapezoids opened the show.
The Trapezoids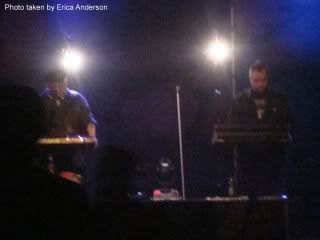 I have to admit I honestly wasn't crazy about them. My beef with synthpop is that the genre has a tendency for being monotonous and The Trapezoids is a perfect example of monotonous synthpop.
Ayria was awesome. I am a huge Ayria fan and she has yet to disappoint me with her live performances.
Ayria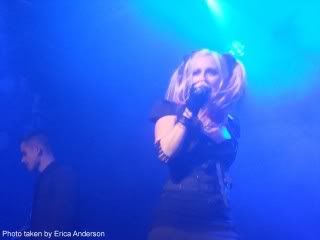 I tried to video record her live performances of "Bad List" and "Analog Trash" but my camera = epic fail. I did though manage to get "My Revenge On the World". This is definitely better footage than the one I shot last year at Station 4 in Saint Paul (where everyone was sweating like pigs).
After her set and while waiting for Project Pitchfork to go on, I bought her
Debris
album and got Jennifer Parkin to sign her autograph on an insert in the package. I also got to have my picture taken with Jennifer too. There is a photo of me and her in my album on myspace. Photobucket is being a pain in the ass and it won't show the photo of her and I but rather one of Peter Spilles. UGH! Photobucket is a piece of shit. I think I'll start uploading photos elsewhere than that bitch.
Project Pitchfork went on about 11pm. They were awesome. I still prefer Peter's other project Santa Hates You IMO.
Project Pitchfork
I also got video recorded PP performing my favorite song "Timekiller".
I have a ton of photos up in my photo album from the show on my myspace page.
While I am more of an Ayria fan and prefer Santa Hates You over Project Pitchfork, last night certainly ranks as one of my favorite concerts of this year so far.