Today I came across this article on NPR called
Breaking Up with Your Favorite Bands.
It quickly made me think of all the bands that I have broken up with over the years so I decided that this would make for perfect blog fodder.
01. Tori Amos
In my 20s and early 30s I adored Tori Amos. Not any more. The signs of a break up with Tori was in the making. Her albums after
From the Choirgirl Hotel
has been nothing to write home about. In fact, her music had become rather long-winded and boring as hell to me. It wasn't until I saw Tori in 2009 did I make an official break from her. It was one of the worst concert experiences ever. Tori Amos has the most annoying (diehard and often looney) fans. 2 hours and $65 was wasted on that concert.
02. Apoptygma Berzerk
I first discovered Apop back in 1999/2000 at Cheapo Reocrds. I had confused Apop for Apocalyptica (whose music I was looking for at the time). I discovered a copy of
Welcome to Earth
in the used cd bins and took it home. I automatically fell in love with the music, and that album would become pivotal in my music collection. It was my first taste of EBM, let alone Metropolis Records. For awhile, Apop was my favorite band...until they released
Me Against the World
and later that POS
Rocket Science
. If anyone deserves the label "sell out", it is Apop. I have to admit I did like a few songs on
Me Against the World
but ultimately it ruined my love for Apop.
Rocket Science
was just rancid from top to bottom.
03. KMFDM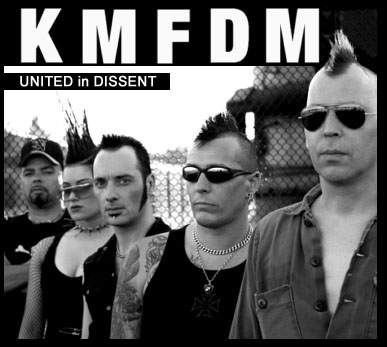 KMFDM was the very first industrial band that I seriously got into just 10-12 years ago. I first heard of KMFDM back in college when I still lived in Milwaukee, WI but I didn't get seriously into them until I moved back to Minnesota. I quickly bought up
Nihil
,
Angst
, the symbol album, and
Money
. Those albums really represented industrial music to me (at the time). Unfortunately their music slowly went downhill in the 2000's. I admit I do/did like a few of their stuff in the 2000's but they were not classics in my eyes. It wasn't until the release of
Blitz
when I just threw up my hands and gave up on them. I am soooooo over KMFDM.
04. Goldfrapp
I recently broke up with Goldfrapp after their 2010 release
Head First
. I think the duo has exhausted all their creativity and needs to move on to bigger and better projects.
05. Delerium
I have recently decided to leave my relationship with Delerium. Delerium has nothing more to offer to me especially after releasing that crapfest "Dust of Gravity" which was the shittiest song I have ever heard. When I saw Conjure One in concert last month, I decided that C1 was much better and have said au revoir to Delerium.
06. Nightwish
All I have to say is that Nightwish has become just another generic goth/metal band that is about as interesting as watching grass grow and paint dry. I am so over them and Tarja too (her solo material blows). The only gothic metal band I dig is the Canadian band Anemonia.