Otep: Atavist (2011)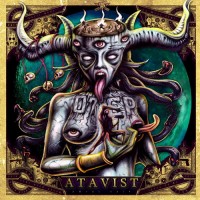 Today I made a trip to the Electric Fetus. One of the cds at the listening stations was the new OTEP album
Atavist
. I decided to check it out. After hearing 2 tracks, I bought the album. It was fucking killer! While I somewhat enjoyed the previous album,
Atavist
definitely was vastly superior. The music was easier for me to digest. I think it helped that the album was about 50 minutes long.
Atavist
is certainly a lot more aggressive than its predecessor. Production is a lot better. I can see this album will be on my best of 2011 towards the end of the year. Just a overall fucking great metal record.
Combichrist: What The F**k is Wrong With You People?! (2007)
This past week I attended my third Combichrist concert. It was one of the best live performances I have seen by the band. While at the show, I decided to buy this album because I missed owning it. I am so glad I did. I almost forgot how much I enjoy this album. It is aggressive, melodic, and energetic. After four years, I still love the songs "Get Your Body Beat" and "What the F**k is Wrong With You?" tracks. This is by far my personal favorite Combichrist album.
Tristesse de la Lune: A Heart Whose Love is Innocent (2007)
I recently acquired a copy of
A Heart Whose Love is Innocent
last week. I had heard a copy of their songs via youtube from this album and went bananas over them. I ended up ordering a copy online. It is a terrific album by the Gini Martin and Kati Rolof. Their music is a blend of goth, classical, and electro similiar to the infectious sounds of Blutengel minus Chris Pohl's gorgeous voice. And the reasons for the Blutengel comparisons is because they used to sing in the band like on "Weg Zu Mir" and "Fairyland". The pulsating rhythms of "Die Andere in Dir" (one of the reasons I bought this album) makes me want to dance. It would be very difficult IMO to not like this electropop duo (well, now it is down to one).
Gabriel and the Apocalypse : "Let Go"
(2011)
"Let Go" is the new single by GATA. I was given a copy (for free) at the Combichrist show this past week. It is very good. While the single does not do the industrial/metal band from Minnesota justice, it is still a kick ass song. It is both melodic and aggressive. The band has a very aggressive sound not too different from Otep except Lindy's vocals is more polished (which isn't a bad thing I think) compared to Otep Shamaya. "Let Go" is a brief yet tasty morsel of what to come from this excellent industrial/metal band. This summer the band will be putting out a new album which I will post the information here on my blog when the time comes.