I know every year I say it has been the best year in music, 2010 being no different well perhaps. LOL! Since there is so much for me to say about music in 2010, I have decided to split it off into 2 parts (maybe 3 if necessary). The first part will be about all the great shows I have attended. This year has truly been good to me as far as music is concerned. Earlier this year around March, I joined the street team for a local promoter (Kilted Farmer Presents) to help promote shows in the electronic genre (whether it is synthpop or industrial). It has been very interesting experience for me. I also have been learning the ins and outs of what involves on putting on a concert. I also got to see quite a few bands that I had never seen before like Faith and the Muse.
Here is a
video clip
of the final song from their show at Ground Zero.
Tom Shears of Assemblage 23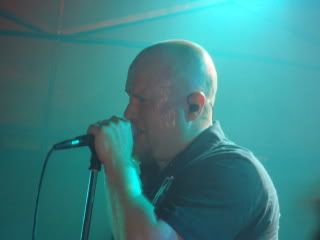 The A23 show at The Varsity Theater was excellent. That was my first time seeing A23 live.
One of my personal favorite concerts wasn't by Kilted Farmer but from Oni Sakti of Shinto Records. The show as called Dark Carnival. It was held at The Bedlam Theater on the west bank back in July. I primarily went to that show to see Sullen Serenade and The Spiritual Bat. You can see photos from the show on my
image shack photo album.
Sullen Serenade was awesome. I guess the reason I dug iVardensphere last month at The Cabooze was because their rhythm section or the taiko drummers reminded me so much of Sullen Serenade. I have to admit the band that kicked ass that night at The Bedlam Theater was The Spiritual Bats. Here is a
video clip
of The Spiritual Bats performing that night. The only thing that irked me about that night was that hardly anyone in the goth/industrial scene attended that show. WTF?! Did anyone not see the promos on Dark Twin Cities's website and FB page?!
My second favorite concert was the
Project Pitchfork with Ayria
gig at Ground Zero in June. Now that I had a digital camera (unlike in 2008 at the Immortal tour for The Cruxshadows), I was lucky to score a photo of myself with Jennifer Parkin of Ayria.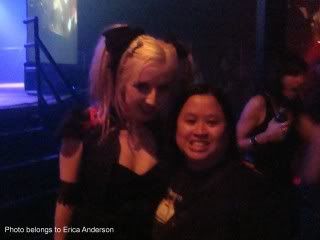 Some of my best photos that I have shot this year came from the Project Pitchfork show. The lighting in the club really gave my photos a lot of atmosphere.
Ayria performing "My Revenge on the World"
Project Pitchfork performing "Timekiller"
One of my favorite highlights of the summer was getting to see and meet my favorite artist Erica Dunham of Unter Null. That was just way too fucking cool! Best damn $60 I ever spent. I can honestly say I can die a happy camper. I just adore Unter Null who has become my favorite industrial band in recent years.
You can see more photos at this
link.
I successfully shot and recorded four video clips from the Unter Null. Of the four, this video of
Unter Null performing "Sick Fuck"
is my favorite clip. I thought it was fucking cool how Erica interacted with the audience during the song.
One of the most underrated concerts of 2010 has to be
Anything Box.
I will be perfectly blunt here, if it wasn't for Trace, I would not have heard of Anything Box. After he gave me a couple of cds by them, prior to the concert, I was immediately hooked. How on earth did I get by not knowing these guys for all these years?! Go figure.
In November, I had the immense pleasure of going to two concerts...Genitorturers and Combichrist. Both concerts fucking rocked! Here is my
Genitorturers photo album
and
Combichrist photo album.
I really loved seeing the Genitorturers perform live. They totally blew me away. Here they are performing
Devil in a Bottle
, my favorite Genitorturers song. As for Combichrist, getting my picture taken with Andy was beyond my wildest dreams. His former project Icon of Coil was one of the first three EBM acts I started listening to when I got into industrial music big time. Of course Aesthetic Perfection did not disappoint me. That was the second time I had seen AE live.
Aesthetic Perfection performing at The Cabooze.
All in all 2010 had been very kind to me with live music. Here's hoping for an awesome 2011. Oh and that is me with Andy of Combichrist.