Not long ago I went on on
89.3 The Current's website
to contribute to their top 89 of 2010 list the station always compiles around this time of year. It was the inspiration behind tonight's blog. My previous best of 2010 consisted of just album releases, this is list is a little more general. It has the questions to that can be found on The Current's website.
What was your favorite album of 2010?
There were so many damn good albums released this year. I guess I would have to go with Minerve's latest album
Please
.
It is really infectious. The songs gets so easily stuck in my head. This is my kind of synthpop. You really just can't go wrong with the soaring vocals and uplifting lyrics on the album.
Who and where was your favorite concert of 2010?
I have attended so many awesome concerts this year but I have to say the Unter Null show at Ground Zero in August is the highlight of 2010 for me.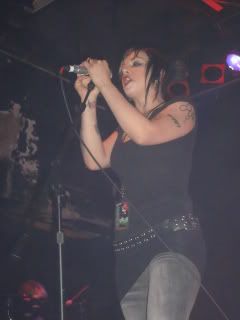 Unter Null's music has become the soundtrack to my life in recent months, not to mention Erica Dunham is my favorite singer. Getting to meet Erica at the show was way too awesome for me.
This was just way too cool.
Who is your favorite new artist of 2010?
Psyborg Corp. I am going to let this clip speak volumes of the band's awesomeness :-).
Who was your favorite local act of 2010?
Bella Koshka. Bella Koshka put an excellent 2nd cd called
Deception Island
this year. I really wish this damn city I live in paid more attention to them. I think they are so damn underrated and clearly overlooked in this city polluted with rancid, pretentious indie rock. Here is a clip of them performing
Caldera
at Sauce this past summer.
What was your favorite video of 2010?
Haunted by Angels on Acid.