Tonight on Facebook, I came across a really great interview with one of my personal favorite bands Sensuous Enemy, a really killer darkwave/synthpop band from Madison, Wisconsin. Here is the
article.
I have been a fan of Sensuous Enemy for nearly 2 years now. Back in 2009, I received a friend request from the band on Myspace (when I still was on Myspace which I recently deleted). The first thing that stood out with me when I first listened to their songs on their Myspace page was Jai's powerful vocals. Jai totally wowed me. There was just a hint of Annie Lennox in her vocals. The second thing that struck me was the pop hooks. The songs were addictive and infectious in terms of catchiness. Not long after friending the band on Myspace, I caught the band live at Club Underground in Minneapolis.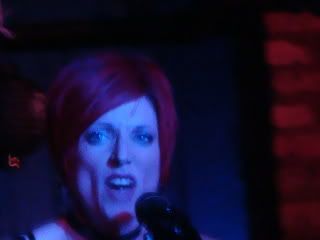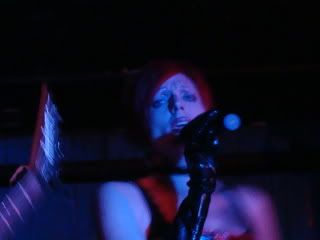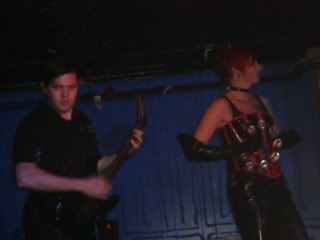 I'll be honest I should have used my flash on my camera at the time that I took those photos. LOL! Anyhoo...the band's live set totally blew me away. I was just awestruck by how this amazing band was performing to very few people in such a tiny club. They had a huge sound that would be more appropriate at a European goth/industrial festival than some tiny, obscure club in Minneapolis. While I was at the show, I picked up a copy of the band's full length album
Fragments
which I absolutely adore. I must say they do a wonderful cover of The Pet Shop Boys' "It's a Sin".
Late last year, the band released their EP
Parity
which I found to be as satisfying as
Fragments
was for my ears. It was pure bliss especially the song "Intentions" which I can't stop listening to constantly. Remixes are usually a hit or miss with me but I totally dug the remixes on
Parity
. I really enjoyed The Light Asylum remix of "Intentions". It has such a huge club vibe. I can not fathom anyone not liking the song or that particular version. Sensuous Enemy really chose their remixers well. I know I like to yak about this band a lot whether on FB or here on my blog but I can't help myself. I am a fan first and foremost. Another reason for this blog is to show my support for my favorite artists/bands especially those who do not have a big record label to promote them. Don't get me wrong I love my favorite artists on Metropolis, Out of Line, A Different Drum, and Alfa Matrix records but I have started thinking that smaller, lesser known bands deserves a shot at recognition.
If there is one band in this world that deserves the kind of push that I am giving it is Sensuous Enemy. What I also love about this band is that they allow people to listen to all of their music in their entirety for free on sound cloud's website. Just click on this
link
and it will take you to their sound cloud page. Even better I would recommend buying their music at
CD Baby.
You can also find their music on itunes as well as
amazon.com.