This morning before work I was goofing around on FB. I came across a photo of an old Fisher Price record player similar to this record player.
This totally brought back fond memories of my youth. While it was a toy, the record player would definitely influence me and who I am as a music fan. The picture of my past youth is what inspired tonight's blog entry.
My parents used to have stereo system which included a record player and a built in eight track player. I had two eight track tapes that I absolutely adored: Sesame Street and Frosty the Snowman.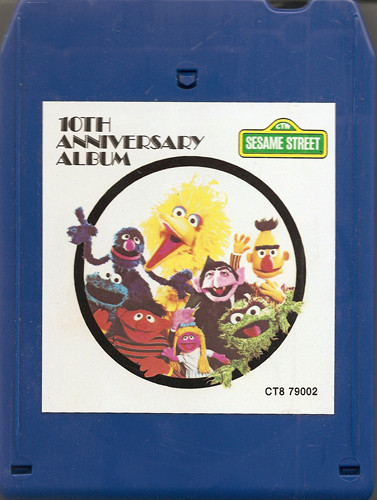 I really loved the Sesame Street eight track. I think I played that thing to death. LOL! Hey! I was just a kid. The only I loved more than those two eight track tapes was Michael Jackson's
Thriller
.
That album was the shiznit. It made up for the stupid Captain and Tennille album my clueless aunt and uncle gave to me for one birthday. I was like 8 or 9 years old and so not amused. I think my parents had an inkling that Captain and Tennille was not my cup of tea. I think they were the ones who gave me
Thriller
. I think. Too bad I don't have my copy of
Thriller
on vinyl any more. I bet it is worth something.
Around 7 or 8, I graduated to a Panasonic cassette player, and this is the particular model that I had as a child.
I loved that thing. I listened to Culture Club's
Colour By Numbers
on it incessantly, especially "Karma Chameleon".
I was all about Culture Club when I was eight years old. I also listened a lot to Cyndi Lauper too.
For me, Cyndi resonated with me more so than Madonna in the '80s. I loved Cyndi's quirkyness.
Eventually I graduated from that dinky little cassette player to a full-fledged boombox.
This was still in the '80s and I was still listening to a lot of new wave music. At that time I also started making mix tapes by taping songs off the radio. Boy! That was a tedious task of waiting to find the song I want to record.
I kinda miss those days. Yeah it was tedious and frustrating but I look back at those days of making mixed tapes very fondly.
As the years went on, my taste in music as well as boomboxes changed. Looking back, it seems so surreal that I went from playing with that toy record player from Fisher Price to listening to music on my ipod. I feel so old :P.