Chrom: Synthetic Movement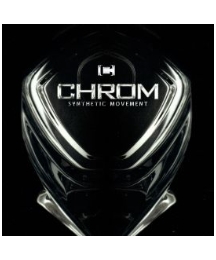 After waiting impatiently for three weeks, I finally got my latest Out of Line order. One of the 2cds I ordered is Chrom's
Synthetic Movement
. I am loving this album a lot. Really satisfies my synthpop craving. All of the songs are excellent. I am often reminded of De/Vision at times.
Alpha Point: High Like the Angels

This is the other cd I ordered from Out of Line, also synthpop. I am digging this album a lot too.
Grendel: Timewave Zero
I am so loving the new Grendel album. No words can really describe the joy the music brings to my ears.I definitely think it is better than
Harsh Generation
(which I also enjoy but think the new album is even better). My personal, personal favorite track on the album is "Deep Waters". Love the female vocals.
Sapphire Solace: Shadow Stories
Sapphire Solace is one of those bands I almost lost track of until over a week ago when I discovered on their website that they had put out a full length album last year. I am glad I decided to visit their FB page which is how I discovered about
Shadow Stories
. The album is a mix of new tracks and remastered tracks from their digital only EP. It did not take me very long to fall back in love with this talented goth band.
System Syn: All Seasons Pass
This week I finally got my System Syn fan pack I bought from Coma Music Magazine as part of their fundraiser. I have been enjoying the album immensely. I took to the album right away unlike their previous album which was good but it had to grow on me.
Sounds of the Underground
This is a compilation of '80s/'90s music that I found at the Electric Fetus on Record Store Day last weekend. I had to get it because it had "Stay" by Shakespeare's Sister and "Lips Are Like Sugar" by Echo and the Bunnymen.
Is/Is: III
This is another cd I bought on Record Store day. Absolutely love their debut album
III
. The band often refers to their sound as witchgaze but I like to think of it simply as damn good. I like to compare their sound with Mazzy Star and The Jesus and Mary Chain and maybe a bit of The Melvins.
Belly: King
I finally got around to buying Belly's second and final album
King
. I have to admit the album isn't as good as their first album
Star
but I like it. My favorite song off the album is"Super Connected".
Damn shame that the public totally wrote them off as a one hit wonder. They were a damn good band IMHO.